e-Newsletter - Volume 4, Number 76
How to Write for Web Pages -
The Complete Tutorial Series Posted
by Bill Anderton
All five installments of the "How to Write for Web Pages" have been posted and are available for viewing upon logging into the Online Ministries Special Interest Community.
This comprehensive tutorial will introduce the techniques for writing text for use on church web pages. It will cover the best practices of a journalistic style of writing for conveying information to the people who visit your website. The tutorial will provide a step-by-step process for preparing for writing a story along with guidance and tips for the actual writing of each of the major components of your story.
Click here to read the full tutorial. (login required)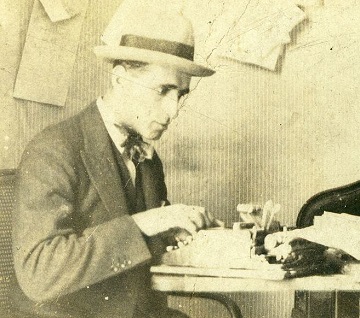 This tutorial is intended for webmasters who must recruit and train a group of volunteer writers, as well as plan and manage the editorial coverage of their websites. It is also intended as a training tool for volunteer writers by providing not only the "big picture" of the entire editorial process, but also specific tips and recommendations for reporting and writing.
This tutorial is intended for training people who are new to writing for publication on the web. No prior experience is assumed. The subject is cover in significant depth in a logical sequence covering the need, the editorial approach, preparing for writing, the writing itself and the pre-publication editorial process. In total, the tutorial includes 24-thousand words presented in five parts.
This series is not intended to be a creative writing course but instead, it will talk about the practical nuts and bolts of communicating with your audience through a basic journalistic approach of reporting and writing that anyone, even those new to writing for publication, can easily learn.
Additional Featured Content In the Community
Rookie Blog – Community Curator Bill Anderton is in the middle of a series on "Cat Herding" about how to recruit, train and lead volunteers to work on your church's website and social media efforts.
Goolge's Webmaster Tutorial Videos – We're now carrying Matt Cutts' ongoing videos that teach basic concepts and techniques for getting the best results from search engines.
Moz's Whiteboard Friday Videos – For the more advanced webmaster, Moz continues its very innovative and instructive Friday lectures on search engine optimization and inbound marketing that build traffic to your website.
Webmaster News - Always current, our Webmaster News feed aggregates news from dozens of sources from around the country.
The Online Ministries Special-Interest Community is dedicated to teaching the planning, building and operating the online assets of churches. The community allows interactive participation among its members as well as with subject-matter experts dedicated to mentoring the community.
Click Here for the Community Home
This is large comprehensive community of almost 200 web pages. It is free to all upon registration.
Some of the most important constituencies served by the Online Ministries Special-Interest Community include people without previous technical backgrounds such as clergy, church boards, leaders and volunteers. Anyone with or without prior experience, who needs to plan websites or lead teams that develop and operate online ministries.
This free online community is the first of a series of resources for helping churches improve their websites, social media and other online presences.
TransformingTheChurch.org